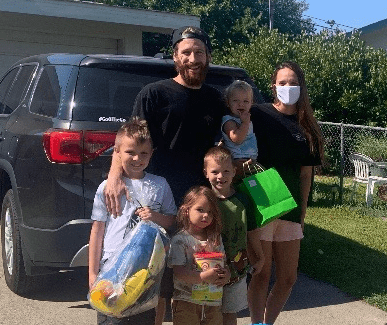 On June 11th, 2020, two-year-old Oliver, who enjoys music and light up toys, was diagnosed with Yolk Sac Tumor.  Yolk Sac Tumor is a tumor of cells that line the yolk sac of the embryo.  Although the cause is unknown, Yolk Sac tumor is unfortunately common in children between the ages of 1-2 years of age.
Aside from his diagnosis, Oliver's family has been subject to additional challenges as a result of COVID-19.  Fortunately, both mom and dad have been able to stay at bedside with Oliver throughout his treatments and also care for their other 3 boys Chael (7), Kaden (5), and Cohen (3).  The family also has strong outside support from surrounding friends, family, and now Keaton's Child Cancer Alliance.
So far, the Family Navigator team has supported Oliver's family with a financial grant, gas cards, food cards, and a Hope Chest for the family.  We are more than honored to continue this fight together with Oliver and his family on their fight against childhood cancer.