Home 2014
We support children with cancer
and their families by providing emotional, educational and financial support, while increasing awareness and funding research toward a cure.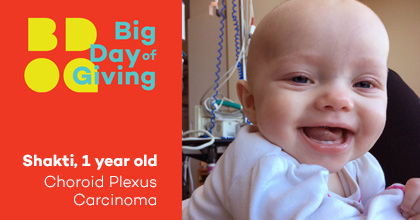 Make a Difference on The Big Day of Giving
The 4th annual Big Day of Giving will be here on Thursday, May 4th! This 24-hour charitable giving challenge is a great opportunity for you to help support children and their families in our community who are battling childhood cancer. Every donation helps a child and family under the stresses and uncertainty of coping with cancer, and supporting KRM on the Big Day of Giving has never been easier. This year, you can even "preschedule" your donation or become a Matching Donor by making your commitment in advance.
To highlight the theme of the day, "Make a Difference," KRM is sharing several stories of local families who have faced cancer, head-on. Learn how the support of others has helped to shape their experiences in amazing ways. Look for these heartwarming features throughout the day on social media and in your inbox.
Mark your calendars for May 4th to show your support for KRM! Visit bigdayofgiving.org on or before May 4th to make your own personal positive impact on a brave child and family in our community.
 
     
We're social, connect with us!