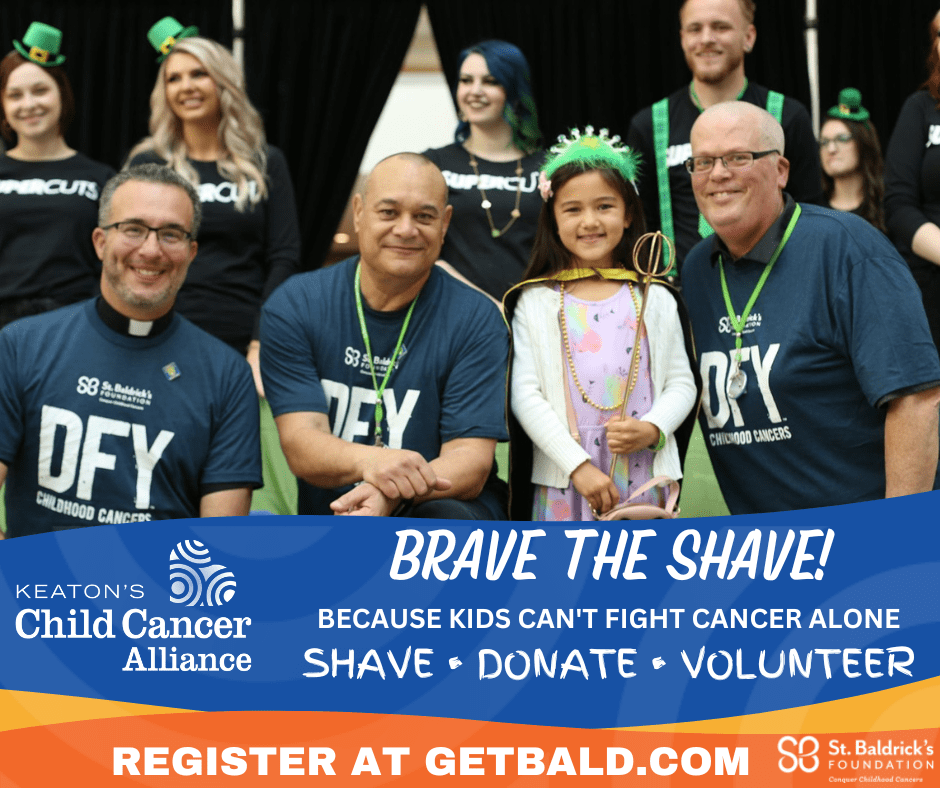 Brave the Shave & Support Children Battling Cancer!
We are pleased to partner with the St. Baldrick's Foundation in their mission to Conquer Childhood Cancer and extend a heartfelt thanks to all the dedicated Volunteer Event Organizers, Volunteers, Shavees, and a special thanks to the Supercuts Team for their time and fundraising efforts throughout all of their stores in Northern California. You all help to make these events such a success.
SHAVE  •  DONATE  •  VOLUNTEER
Brave the Shave and sign up to have your head shaved! Participate as an individual, create a team or join an existing team. It's easy and as we always say "Bald is Beautiful."
Fundraise! Set a goal, create a challenge, inspire others to join the cause, and make a difference for children battling cancer. We'll provide the tools and the inspiration, you provide the creativity and rally your friends, family, neighbors, co-workers, and everyone you know to be a part of your efforts.
Select a Keaton's Kiddo to Honor or let us help in selecting one for you. Honoring a child makes them feel special while raising awareness for childhood cancer and the ongoing research needs.
Give Your Time! Volunteers are always needed. Register as a volunteer and Melinda at Keaton's Child Cancer Alliance will be in touch regarding opportunities at our event.
Not ready to Brave the Shave? Donations are always needed. Please consider making a donation to fund pediatric cancer research.
Get Started Today! Register, create your fundraising page, and set a fundraising goal. Head shaving is not a requirement to fundraise. Anyone can fundraiser, all you have to do is register and spread the word about your involvement!
Together we will #ConquerKidsCancer!