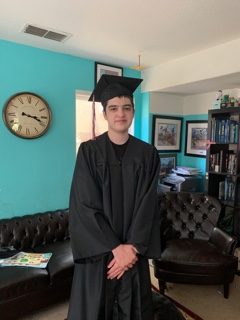 Congratulations to Keaton Kiddo Travis who has accomplished a HUGE milestone and is graduating high school!
When he was just 15 years old, Travis and his family heard the devastating news that he was diagnosed with Astrocytoma, a tumor that arises from the star-shaped cells (astrocytes) which form the supportive tissue of the brain. As you can imagine, this was tough for Travis who was in the midst of his teenage years. Due to his diagnosis, Travis was forced to spend most of his Sophomore and Junior years of High School in and out of the hospital, receiving chemo treatment and surgeries. Thankfully, he had the opportunity to join his classmates for online classes during his senior year which created a great sense of normalcy for him.
Now 18 years old, Travis has worked extremely hard to achieve this accomplishment and was accepted into TWO colleges: Culinary School in Napa and the Academy of Arts University in San Francisco. Along with being a recipient of the John McLean Scholarship Award by Keaton's Child Cancer Alliance, Travis has chosen to accept the offer and attend the Academy of Arts University in San Fransisco and will study video game programming, design and art. His goal is to create games for children battling cancer that they can play while in the hospital, enduring treatment.
Congratulations Travis!