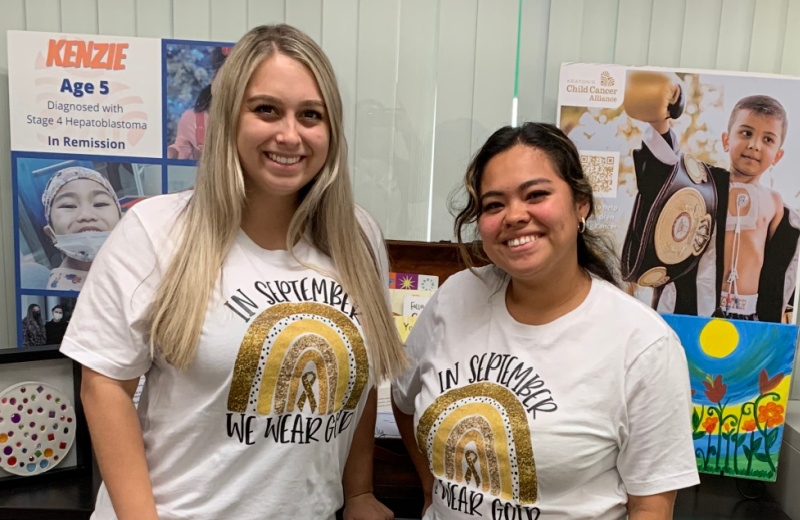 Join us in welcoming our 2022 – 2023 interns; Riley and Jennifer.
With the number of families that we support continuing to rise, having interns provides the opportunity to connect more with families battling childhood cancer. The ability to host interns is such a valued part of Keaton's Child Cancer Alliance.
Riley is currently participating in a yearlong internship program for her Masters of Social Work degree at Sacramento State. She received her Bachelor's Degree in Social Work from Sacramento State in 2022 and will Graduate with her MSW in 2024. Following graduation, Riley would like to pursue her LCSW and is interested in specializing in Mental Health and working closely with families and children.
Riley chose Keaton's after her brother was diagnosed with Acute Myeloid Leukemia. This diagnosis had made a huge impact in Riley's and her family's life, like so many others who experience a childhood cancer diagnosis. Riley's goal is to obtain her license of clinical social work, to then become a medical social worker in the hospital setting. Riley's passion is to continue to work with hospice and oncology patients.
"I am very thankful to be a part of the Keaton Family Navigator Team. While working alongside this amazing team, I am being given the opportunity to work with wonderful families as well. I am excited to help expand the Keaton's family resources by creating a strong sibling support system, through either group therapy, or fun activities! I look forward to serving this resilient community, while I also expand my own knowledge in medical-social work!"
Jennifer is currently in her senior year at California State University of Sacramento, pursuing her Bachelor's in Social Work.
Jennifer chose Keaton's after discovering the positive impact that this program has had on all the families they serve. Jennifer's focus is lending a helping hand to families and children within the community. During her time here, she plans to create meaningful relationship with the families that get the pleasure to work with her directly.
"I am very honored to have been picked to be a part of this amazing team. I am very excited to build connections with all the children and families I will meet at my time here at Keaton's. I can't wait for the amazing memories I will create here!"
The entire Keaton's Child Cancer Alliance team is pleased to have these wonderful interns for the course of their school year. They have already begun working with families and are making an impact. Welcome, Riley and Jennifer!